Hi I'm Krister,
I interpret diverse cultural topics to design interactive educational experiences for large family audiences. My designs are simple that children will enjoy playing with them, and practical that blindness and low-vision communities will use them. I do this by incorporating human evolution into an agile process of Human Centred Design. This nearly always involves creating new interactive technologies as a result of creating a great customer fit.
Strengths
In my view, the mobile and web interfaces we struggle most with today are still only either a symbolic representation or at worst, a distilled version of a complex backend solution and its business requirements.
What I do is create natural user interfaces and experiences that are immediately familiar so that they don't require people to learn and manage them. I do this by ensuring that my designs let customers perform their tasks as close as possible to the way our human species has evolved to, and would naturally come to expect to be able to perform those tasks at different ages. I ensure it for all ages from toddlers to adults, and.
And even though losing the function of one or multiple senses (eg blindness and low-vision) brings great change in a person's life, what they share in common with other citizens is what they can expect will happen while performing a task using their remaining senses. Eg If they ask about getting a refund, in evolutionary terms they would expect to engage in conversation (instead of being made to process a form with contextual data). Setting the expectation levels right in evolutionary terms is key, and the reason why so many interactive public installations appear vague, confusing and do not get the public to do and experience what the artist or designer originally intended. It is also one reason why so many apps miss the opportunity to use much of the electronics and software native to the mobile device in a logical sequence that feels familiar, mimics use of the senses and automates a part of the customer journey.
Knowing how to apply human evolution to creating effective UI's and customer experiences is a strength I developed through 7 years of experimenting with and learning how to design whole museum spaces complete with UI's, smart technologies and cutting edge learning experiences. These educational experiences required me to know how to appeal to and increase that depth of engagement of fast moving family audiences of 470,000 annual visitors, who spent an average 11 seconds per UI.
UX Design Mantra
I learn through play, just as my audiences do.
We all learn through play regardless of age. As a designer, I experiment and validate ideas through an iterative process involving experience-prototyping.
Portfolio
Below is a sample portfolio.
Click here to view extended portfolio in PDF, showcasing UI's and experiences involving 17 emerging technologies.
Alternatively, copy this URL: https://www.dropbox.com/s/7gjsttg8z04poak/Emerging%20Technologies%20-%20Krister%20Gustafsson%202016.pdf?dl=0
Magic Garden for G8 Kindergarten Network
May 2016 onwards
Problem
Current educational technologies make it hard for kindergarten teachers to apply the creative curriculum and limit children's creative learning potential.
How might learning technologies and educational programs increase the creative learning potential of children aged 3-5 at kindergartens by adapting in real-time to:
Children's natural sense of curiosity and way of learning through play?
Kindergarten teacher's preferred way of teaching the creative curriculum and engaging children?
Insights
All insights gleaned from experience-prototyping with stakeholders were used to refine the design. These design elements were then tested to validate the insights through the next round of experience-prototyping.
Children gain the most learning value from roleplay and helping an adult.
Children seek to make their fantasy worlds real.
Children's philosophy with 3-5 year olds is done through role play and fantasy.
Parents live vicariously through their children's imaginative role play and are keen to participate in their child's roleplay remotely.
Parents are timepoor and respond best through sudden announcements, eg "come join your son Simon flying a magic carpet now or watch the video during your break".
Parents need to be left with a "learning theme of the day" as homework to discuss with their children.
Teachers want to facilitate a greater diversity of roleplays with nearly the same effort as if they used no technology but are limited by facilities.
Kindergarten directors want experiences that integrate their region's unique local geography.
The G8 network of over 400 kindergartens needs an 'enterprise solution' that shows improvements in staff and children during role play.
Budget
Bootstrapped by offering parents (as paying customers) the service of personalising the technology and educational programs.
Design Thinking
My main strategy to get stakehlders invested in the project was through continually "experience prototyping" with them in 3 key ways IDEO prescribes:
To investigate their problem, its context and magnitude
To empower stakeholders to explore a solution.
To experience their solution with increasing fidelity and suggest improvements.
Because time to market was critical, I also adopted the preciseness of Kies Dorst's Frame Innovation method used in the Design Innovation and Designing Out Crime Centres at University of Technology, Sydney.
Stages have so far included:
Experimentation doing Children's Philsophy with 3-5 year olds.
Brief based on initial research findings, problem definition and articulation of the unsolved paradox facing indergartens.
Partnership with Earth Kids Early Learning Centre through co-creative workshop
Interviews and co-creative workshops with parents, kindergarten staff, Children's Philosophers.
Research: child development, trends and innovations
Validation of insights and initial design ideas through further prototyping with stakeholders
Project management
Workshops to map themes, relatioships and transaction of values between stakeholders
Personas
Reframing problem and full range of design concepts
Validation of personas and relationships through:

Scenario script writing and story boarding
UI designs and wireframes for mobile, web and electronics
a digital electronic prototype using a webcam, micro-projector and PC (see photo above)

Technical specifications for mobile, web, hardware and electronics engineering for MVP
Lean business canvas
Validation of lean business canvas with stakeholders
Solution
Enterprise solution consisting of:
A digital projection that adapts to children and teachers' role play sessions.
Children's Philosophy programs.
An online live-video channel broadcast straight to parents that lets them participate as one of the characters in the digital projection.
Parents given one simple learning theme.
Metrics on children's improvement automatically gathered for parents and staff.
Automatic integration of YELF curriculum.
Challenges
I began the project alone without a Programmer, Electronics Engineer or a Children's Philosopher. In response, I set the project up so that I could launch an MVP (see sketch above) where I pretended to be the adaptive software (using applications including Photoshop) and worked directly with kindergarten teachers (as the closest match to a Children's Philosopher). Longer term, the MVP would then give me the insights necessary to seek funding for software development and a rough prototype to test monetisation models with.
Leading by example in the Design industry to me means to prototype first and then invite feedback, and in doing so I inspired confidence that attracted the remaining team.
I was faced with the dogma that Childen's Philosophy worked either best or exclusively with children 7 years or older. Very little research existed proving that it worked with kindergarten children. Before I even discovered this research, I learned the basics of Children's Philosophy and ran a public program at a yoga festival with the same age group. Impressed with the capacity of the age group to be philosophical in its uniquely playful way, I had enough insights and proof to begin the project and found the only specialist working in the same field at Capetown University.
Starting the project with zero budget gave me the opportunity to test boostrapping it.
I benefitted from letting the kindergarten director retain control of some operational procedures as a way to elay her anxiety about putting her credibility on the line with the G8 Network and the parents through taking a risk on this new project. Her communication skills were central to upselling to the G8 network's Operation Manager and buying more time in interviews with parents and staff.
Achievements
Earth Kids Early Lerning Centre contributed material resources, facilities, coorindation of interviews and ticket sales.
Operations manager keen to help me upsell to entire G8 network of over 400.
Ticket sales from parents prior to interviews
Stakeholders
My team includes a UX Designer and Children's Pholisopher.
Earth Kids Early Learning Centre and G8 network Operations Manager
Parents, grandparents and kids
Interactive Playgrounds
Bupa Magic Garden
"Healthy Food and Healthy Activity"
Open 2008-2014 at Powerhouse Museum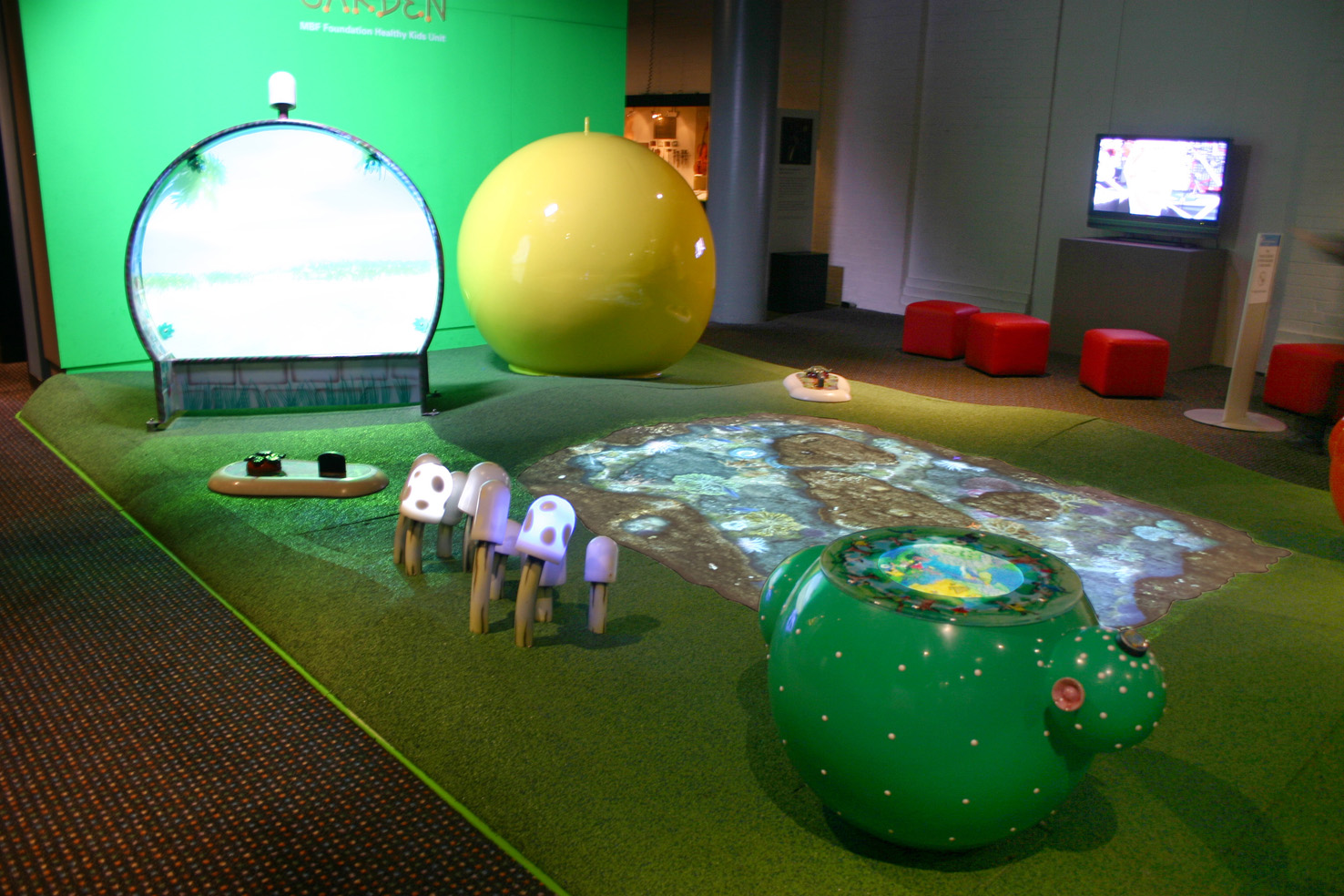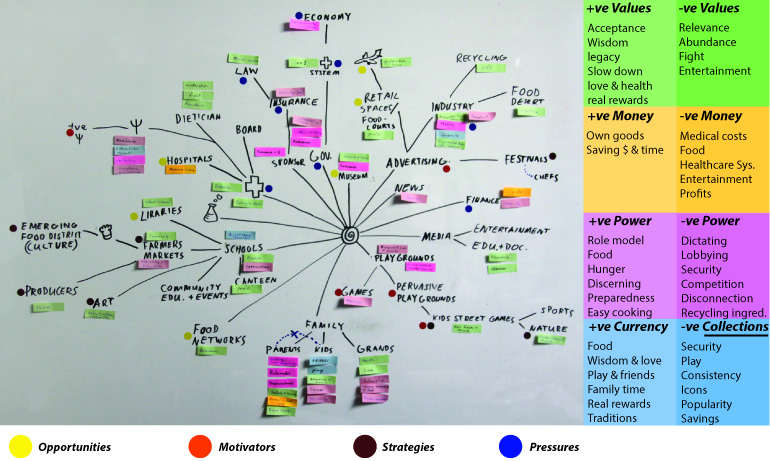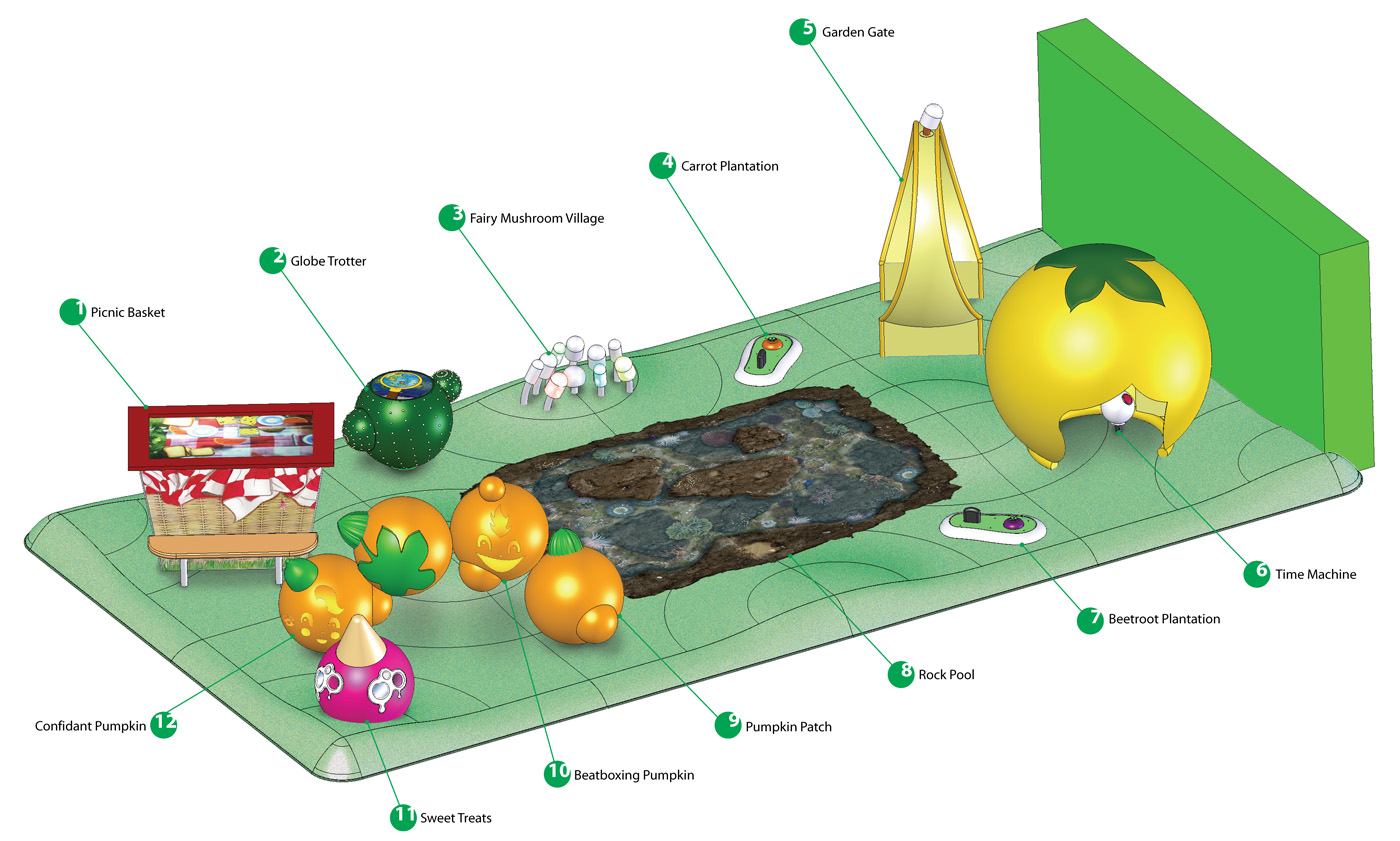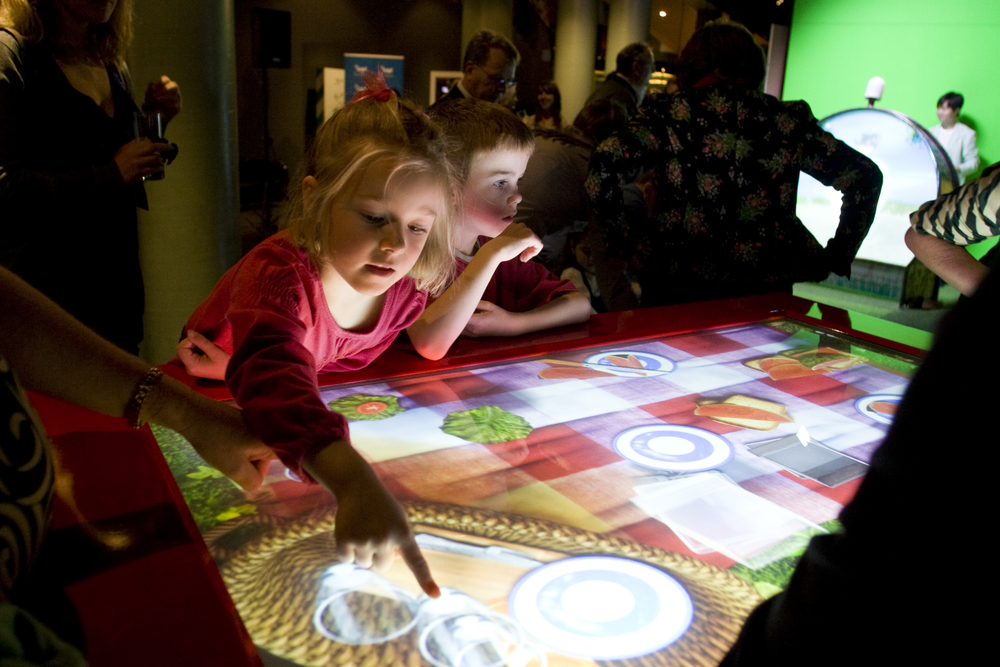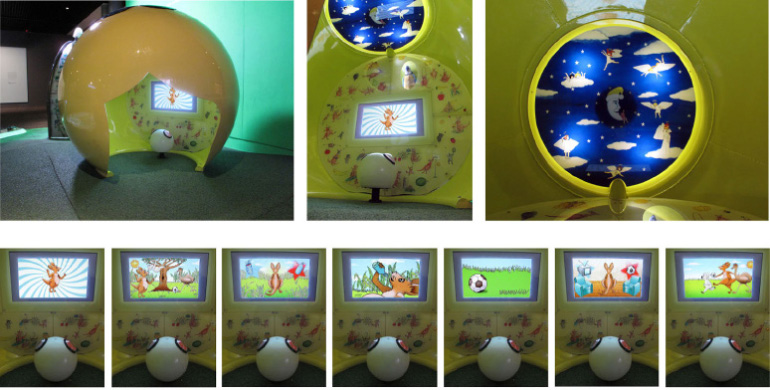 Problem
One in 4 Australian children is either overweight or obese and at risk of suffering adult illnesses including type 2 diabetes, and the trend is worsening into a childhood pandemic known as diobesity. Obesity alone costs Australians $58 billion.
How can a children's exhibition break free of the dogmas of exhibitions being purely educational to instead become an active part of the solution of helping children aged 2-8 adopt healthy lifestyles at an age when lifelong habits are formed?
Insights
Citizens are overwhelmed by conflicting health advice that is out of date and in a constant state of flux.
Previous interventions were not multigenerational, yet families with grandparents needed more ways to bring them together and engage children in activities that showed where food came from and how it was made.
Grandparents bore wisdom essential to pass down to children and wanted to live vicariously through the imaginative worlds of their children.
National health strategies were shallow and clinical experts did not know what the root problem and ideal solution was.
Families were dependent on government and corporate services which increased healthcare costs and contributed to the problem as a paradoxical cycle.
Communities that had overcome such dependence became a source of inspiration: Quitting smoking, Red Bull sports champions, the sale of solar power electricity back to the grid.
Families believed they could not afford organic food (although the cost would be similar if they spent time making their food) yet the effect of fast foods gradually made them eat and spend more.
Playgrounds had become outmoded as both parents and children played video games. New types of playgrounds and learning technologies increasingly segregated parents from children. Parents and grandparents had fewer opportunities to be mediators in children's learning and missed spending quality time with them.
Unique Problem Identified:
Industry has disconnected food from activity. Long ago, in traditional foodways, we made our own food from growing to harvesting, cooking to storing. It provided physically hard, fulfilling work that began with a few easy steps and grew our confidence as we advanced. Food and activity need to be remerged by getting kids to make food.
Budget
$283,000
Design Thinking
Brief written based on initial research findings, expected learning goals, definition of the problem, its paradoxes and total scale (size of market and impact on society).
Partnerships formed with clinical experts, government health advisors and sponsors through co-creative workshops
Scope of brief enlarged to consider how the project may transition the Museum.
Findings from interviews with audiences backed by further research.
Workshops mapping the field of citizen's roles, their contribution to the problem, exchange of values.
Personas and extreme users identified
Frist pioneering tools created and tested
Expanding the field to find ways experts and communities have overcome related problems.
An agile team of specialists was plucked from this field especially because they had never been used in the industry to solve the problem before. The team used Pixar's method of plussing and Transmedia industry's way of using a psychologist to interpret how the audience would perceive ideas created in rapid succession of ideas. unique talent complemented experience and interface designers and included:
A Children's Philosopher (formerly a Children's Nurse)
2 Children's book authors
An illustrator
Industrial Designers
70 ideas and 182 childhood themes were generated by the team structure. These were validated with experts through an updated brief and overall concept.
Research and concepts of educational content and learning goals. These were validated through the 6 MVP types listed below.
A class of Visual Communications students were also invited to produce a broader range of concepts.
Themes were distilled into a 5-step customer journey. Frames from these inspired design concepts and future visions.
Value Proposition
Concepts were validated and developed further with experts, children and families through MVP's consisting of:
Educational programs
"Choose your own adventure" style stories
UI wireframes and game design
Physical interpretations of UI's
An updated overall-concept in plan view and project-summary.
Workshops
Metrics were gathered to show which play activities made themes most memorable triggered the most exchanges of healthy values in conversation.
Tendering of 3 Natural User Interfaces that used cameras and projections
Assistance with media press releases and securing additional sponsorships
Designs and value proposition were refined using insights and metrics and prototyped further to achieve high fidelity. In this final phase of R&D I both did the technical industrial design of the whole space, assisted project management and oversaw production liaison of:
Mechatronics: development of new technologies
Programming and coding of UI's of Natural User Interfaces
Scripts for multimedia
Graphics: digital, environmental, print
Manufacture & development of new manufacturing methods
Final consultation with Kidsafe NSW, stakeholders including clinical experts.
Final testing prior to installation measured vandal resistance and learning goals achieved. This resulted in a list of features that needed monitoring within the first week after launch.
Launch party in 2008 with press involved testing of concepts left for the Transition phase.
Transition phase:
Audience surveys used to plan maintenance and refinements including minor safety upgrades.
Planning the expansion of the Magic Garden to include satelite installations at hospitals including Westmead Children's Hospital, and other high-traffic spaces as a new model for the Powerhouse Museum to engage large audiences.
Surveys measuring Word of Mouth and impact of new media format: interactive playgrounds
Reflection on surveys, design process and development of method cards and tools specific to pioneering
Development of new methods of prototyping exhibits and fostering lean and early collaboration between departments using Augmented Reality
R&D of 3D printing whole playgrounds
Solution
A whimsical veggie patch of 13 Natural User Interfaces, UI's and sensorial mechatronic experiences where children could become fit directly in the space, and see how traditional food is made, with the takeaway feature of being inspired to continue the experiences outdoors.
Achievements
Earth Kids Early Lerning Centre contributed material resources, facilities, coorindation of interviews and ticket sales.
Pioneered Interactive Playgrounds (Powerhouse Musuem)
Museum promoted the Magic Garden as its flagship exhibition and a world first in how it used technology to communicate its health theme: "Healthy Eating & Healthy Exercise"
My design grew into a familiar icon in Sydney through word of mouth.
The space drew as many people per square floor area as block busters such as Star Wars and Harry Potter
Stakeholders
Bupa (formerly MBF)
Morbid Obesity Clinic- Westmead Hospital
Health advisors to NSW state government
Kidssafe
University of Technology Sydney's Visual Communications class
Dr Lydia Ievleva
Living in a Sensory World
2010
Visions Australia in collaboration with Powerhouse Museum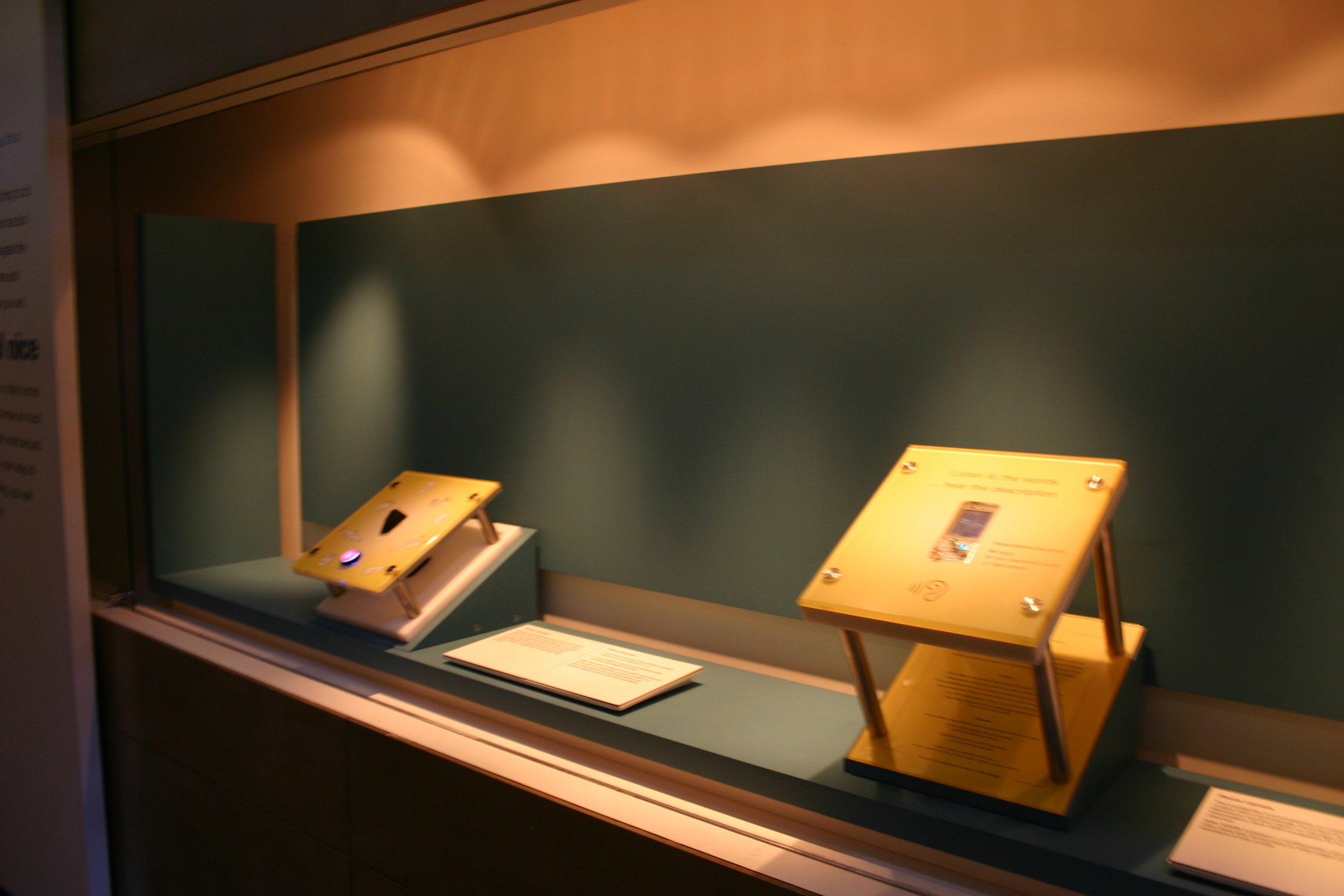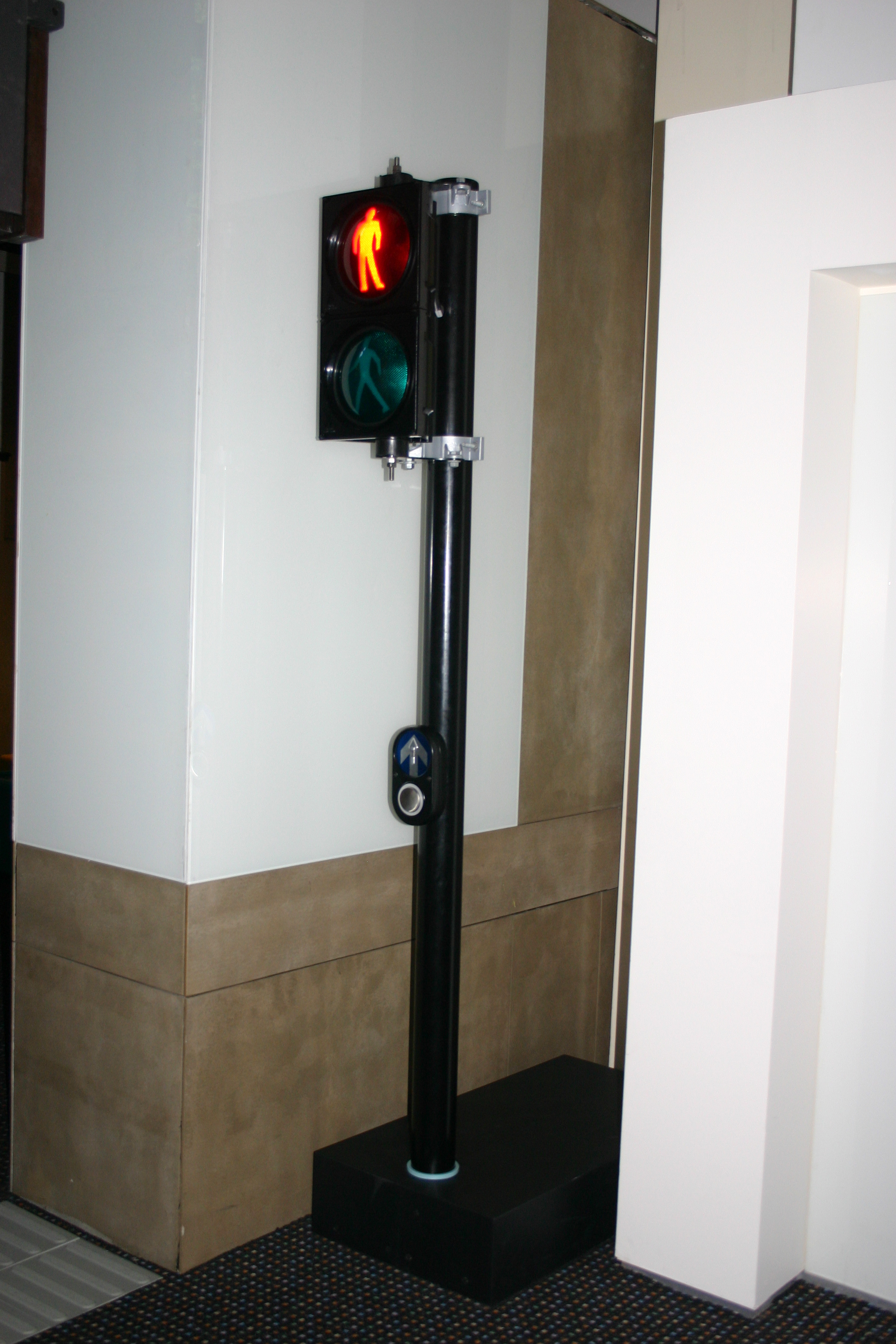 Problem
Few know how Australians living with blindness and low vision participate effectively in every aspect of community life.
How do you design an exhibition of interactive experiences that is accessible to blindness and low vision communities and helps all visitors understand their world and the advanced interfaces used to overcome blindness and low vision?
Insights
Designing for blindness and low vision requires interpretation of how human beings have evolved to learn and communicate. These metaphors help create natural user interfaces or UI's that feel closer to providing a natural experience of engaging an object, person or space - experiences we have evolved to find familiar.
When UI's are navigated as if they were a physical space in a forest or field, high contrast coloured backgrounds help identify interactive features and wayfinding.
UI navigation should be shallow, ideally presenting tools and information on the same screen.
Complex information is best interacted with through speech and memorable story telling as if the software were a person. Story telling feels most natural vs verbalising tasks.
When UI's are a front end and act as a memory bank to complex data, keypads need to be reduced to tactile and high contrast-coloured hot keys and ideally trigger speech recognition as the second level of engagement. The metaphor is to touch someone before conversing.
Design Thinking
Brief
Interviews
Research of personal accounts using technology
Experimentation using mobile technologies and workarounds adopted
Validation through concepts, colours, objects and textured materials
Refinements of designs
Technical briefing for prototyping and production of interactive media
Prototyping and testing with stakeholders lead to further refinements
Installation
Evaluation lead to upgrades and maintenance
Solution
Interactive experiences simulated the experience of using technologies as aids in concert with multimedia stories of real accounts.
Accessibility:
Images, video and stories instead of text and numbers.
Minimum 21 point sans serif font for environmental graphics around UI.
Female voiceovers for clarity.
Bright contrasting colours to increase visibility of buttons.
Brail labels alongside extra large labels using minimum 21 point sans serif font.
Wheelchair access and textured floor to mark zones of space.
Objects placed against bright contrasting colours to increase their visibility.
Engineering Excellence Awards 2011
Engineers Australia in collaboration with Powerhouse Museum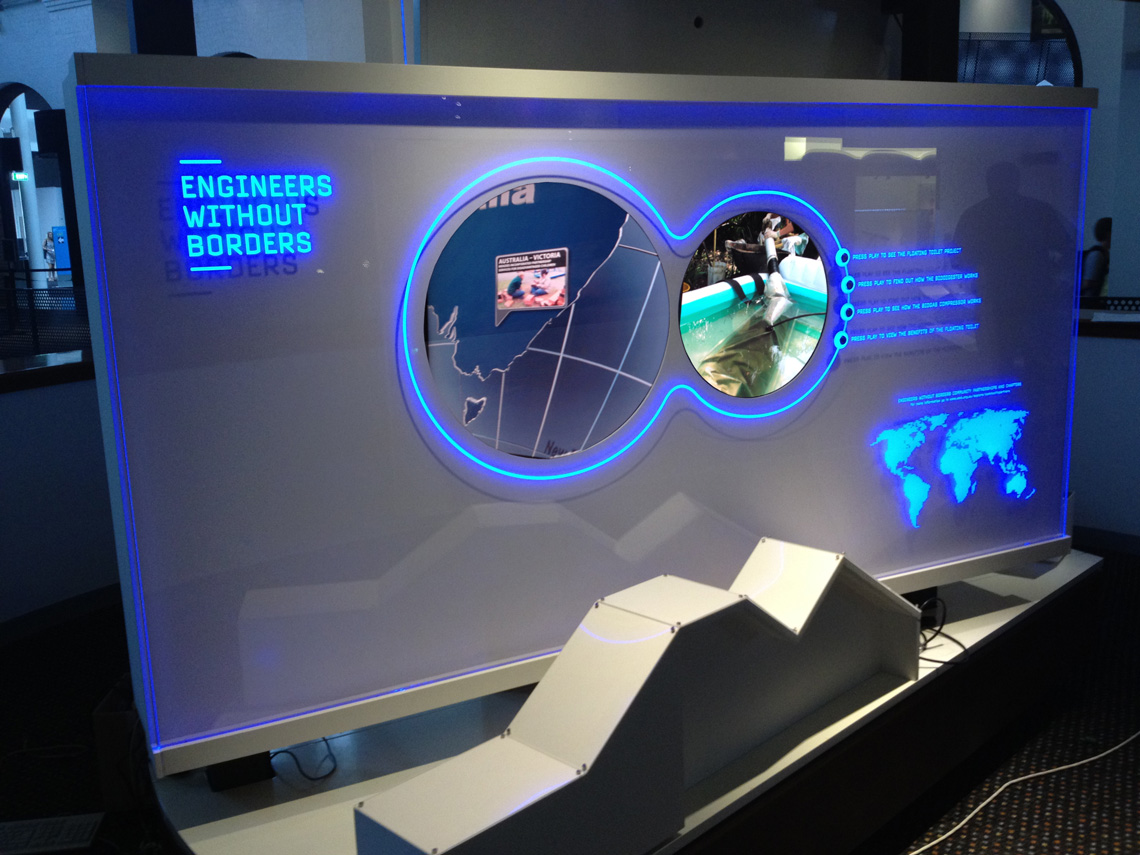 Problem
Winners of the Australian Engineering Excellence Awards and their innovations were hosted for 18 years but visitor numbers were lower than other permanent exhibits in the Museum.
How could the exhibition encourage the repeat visitation and deeper engagement between more engineers and future innovators?
Insights
The exhibition space was very successful and meaningful to Engineers, Design Tech and Engineering students during its launch but drew mostly tourists (whose purpose was random) the rest of the year, which did not support its bottom line and purpose as strongly.
Senior and award winning engineers want to pass on their knowledge and tell their entrepreneurial story.
Design Tech and engineering students actively hunt for inspiration for their final year projects at the same time the exhibition is launched.
Engineers and students form a natural Master and Apprentice relationship that foresters an easy exchange of ideas and practical knowledge.
Situational Learning is one of the most effective methods for understanding new mechanical concepts.
Design Thinking
Briefing
Workshopping to explore problem. Validation through surveying visitors why they were drawn to the exhibit and failure points.
Failure points documented (see image of floor plan above) to find bottle-necks in learning potential and Word of Mouth spreading. Surveys conducted showed who was most engaged and why.
Brief updated
Project Management
Study expanded to similar environments such as libraries where the same target groups (engineers and students) naturally were most engaged in a meaningful exchange of ideas and knowledge.
Workshop with stakeholders analysing findings to build personas, themes, frames and concepts. Themes included the ideal work environment and future Design Thinking spaces that foster a Master and Apprentice relationship and the exchange of ideas that it facilitates.
Prototypes at a mechanic's garage validate the concepts. The prototypes also measure the speed and fluency in which they trigger a Master and Apprentice relationship as an alternative and effective means of an exhibition going beyond its content to educate its audience.
The prototypes validate the frame of reference chosen as Tom Cruise's film "Minority Report" to create future visions of a work environment where information is accessed and reworked across walls layered with information and portable on mobile devices between the walls and interactive work benches.
Educational Content brief
Story boards validate the concepts with stakeholders.
Design of UI wireframes and educational content
Development and prototyping of UI's and holographic touch-sensitive walls and testing with engineers and students.
Testing elements of the story board such as using QR codes to make information transportable on mobile devices. This failed because it interrupted the natural work and conversational flow. Taking and sharing photos proved to be a more natural fit.
Production liaison of:
Manufacture
Programming and multimedia
Mechatronics
Environmental graphics
Installation and launch
Evaluation, minor design upgrades and maintenanc
Solution
An exhibition space that facilitated more meaningful interactions between professional and student engineers and designers, by exploring the future of shared work spaces.
Problem
Museums are increasingly running into debt and attracting less sponsorship money too late in projects.
How do you create a collaborative tool that enables the Museum teams to experience-prototype with sponsors to get them invested in a project early and at no material cost?
Insights
Some sponsors experience being creative partners early in the project, but most sponsors come in late and are harder to attract because there isn't the same lure of a co-creative partnership.
Creative teams want to reconfigure the design of a space fast and on the fly all while ideally seeing it 1:1 in scale.
Designers want a tool to experience-prototype with.
Fabricators want a sense of scale by seeing themselves and others using the design. "How big is this thing?"
Management teams want to facilitate "concept meetings" with potential partners more often, while walking around the Museum, in a "pen and paper sketch on clipboards, and photos" fashion.
Relationships take a long time to build, often much longer than the project's development time, making it harder to find key partners in time.
Design Thinking
Problem definition and brief.
Validation of problem with programmers and game designers at Qantm College.
Interviews with Museum teams to build a list of shared values and themes.
Storyboard and one screen shot of UI were used to validate the value propositions with Museum teams.
UI design, wireframes and collaborative openess validated with Museum teams.
Technical specification written with programmers, based on the storyboard.
Development and testing with Musuem teams and visiting officials.
Implementation as an experience-prototyping tool in exhibition design projects.
Solution
A high fidelity way for the Museum to visually prototype design ideas together with sponsors to get their buy-in earlier.
Technical:
A cube with fiducial markers enabled virtual exhibits to be repositioned in the space.

Augmented reality for iPad developed using:

Models built in Solidworks

Sycode solidworks-3DS model exporter to help generate DCC files

Unity 3D
Wearables & Implants
Vitali
Problem
The adjustment for new paraplegics is so great that many commit suicide in their first year. The prototype of the Vitali system was being prepared for imminent clinical trials to bring mobility back to patients using a network of muscle-stimualting implants operated via a remote control interface and body work sensors.
How can the body-worn part of the system be made ready for real world scenarios?
Insights
Paraplegic patients have vastly different set of ergonomic requirements to able bodied people. For instance, because patients have no control of their body, their muscle mass and temperature fluctuate in different parts of the body rapidly.
Some ergonomic requirements have life threatening consequences. Example: a garment must minimise pressure points to prevent pressure sores.
Male patients' erectile function is central to their marriage and the quality of life their relationship brings.
Protruding cables posed a danger.
Design Thinking
Technical briefing and UI requirements
Design brief based on problem definition and initial research findings.
Customer interviews and first-hand accounts of being paraplegic.
Analysis of possible failure points and what works.
New ergonomic brief compiled from interviews and research findings
User-scenarios validated with clinical team and customers.
Investigation of bandage and swimsuit technology and superhero aesthetics.
Themes, frames and concept designs validated with clinical team.
UI physical button designs and layout validated with clinical team and patients.
Update of users scenarios based on feedback on UI designs.
Prototyping and role playing with able bodied people to test the design's suitability for different body sizes and ergonomic requirements.
Production and finals tests as proof.
Solution
Vitali was a body-worn system of computers, sensors and interfaces, that controlled a matrix of implants designed to give controlled mobility to people with paralysis and motor-skill disabilities.
The client's prototype used Functional Electrical Stimulation to excite muscle nerves, and was controlled with a belt-worn interface that actuated the implants via radio waves. Body-worn sensors gave real-time feedback of the body's posture to the interfacial unit, to correct body posture. The interface was also used by medical teams to analyse and control performance during training and post-operative rehabilitation.
I designed the body-worn system to become adaptive to a patient's changing conditions and to enhance their quality of life by making the design:
Increase the patient's health, life expectancy and independence.
Use biocompatible materials.
Flexible to rapidly changing muscle bulk, body heat, and both male and female rituals of use.
Achievements
The physical protrusions in the UI meant that it could be accessed discretely through clothing by touch, helping patients appear able-bodied.
Bandage design was an innovation: It was essential that motion and position sensor-packets attached to limbs stayed fixed in position in order to give an accurate reading of the body's posture. The unique shape of the leg strap allowed the fabric to stretch with the diagonal contractions of muscles, preventing the straps from riding.
Problem
More city-dwellers are unaware of where sustainable food comes from and how it is made.
How could an online network help city-dwellers make informed decisions when they source their sustainable foods?
Insights
Food producers use farmers markets to test their business model and grow demand for their product but it is labour intensive and time consuming to attend them. It is also a big jump from attending a few farmers markets to becoming export-ready.
Food producers were in need of a solution to grow a regular customer base at less cost till they could operate a large enough capacity to begin exporting.
Customers were happier to buy produce at an elevated price when told a story of where it came from and who the producer was.
Design Thinking
Team formation.
Redefining problem.
Validation of problem by bootstrapping project through first sales of organic fruit to customers.
Interviews and concepts with customers and food producers at farmers markets.
Customer and producer personas.
Business planning.
Website wireframes tested with producers at farmers markets to prove value proposition and personas.
Partnership with food producer.
UI visual design
UI design validation with food producer
Pitch to investors and support gained.
Investor feedback used to refine the business plan and design.
An online farmers market that connects city dwelling consumers with farmers to help farmers test their business model and grow their operation to become export-ready.
Achievements
Federal ministerial mentoring gained from investment pitch.
Video testimonials from partnering producer used in the website.
Boostrapped project with first sales.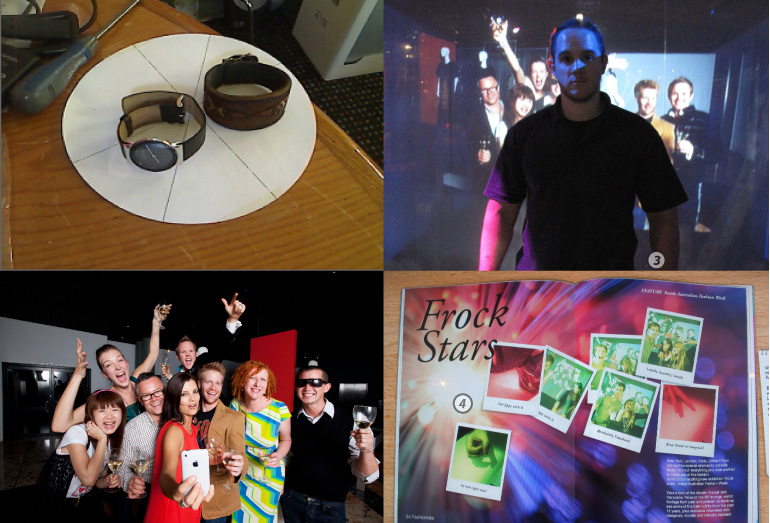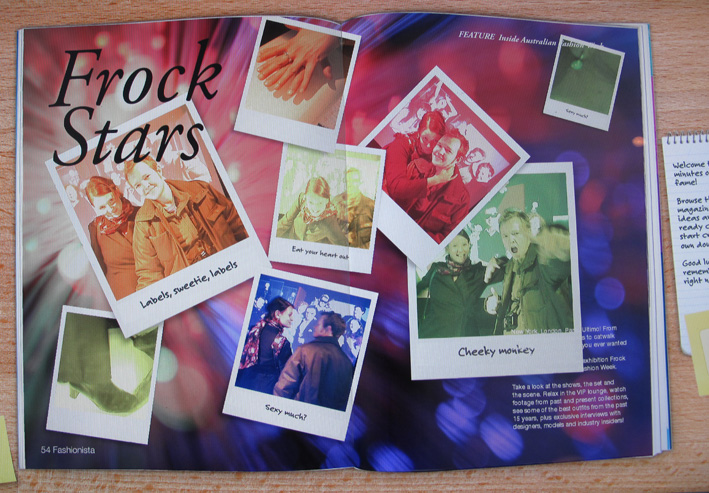 Problem
Fashion designers are only the most visible members of a vast network of professionals that support Fashion Week, but few know who they are and their importance.
How do you make an obscure professional network instantly familiar?
Insights
Fashionistas want to exert influence on the runway and have the strongest affiliation with the model and the clothes worn through taking photos and sharing these on social media. Even though entry to catwalks is restricted, because of their social media presence, it has made Fashionistas accessible, although less than models. This is evidenced by how so many who are not at Fashion Week in the age of social media play the role of being reporting fashionista.
The model was the most familiar role to the public, and one that engaged the largest portion of the highly visible and invisible professional network. It would be easy for audiences to role play being a model and a great vehicle to engage other professional roles.
Role play feels contrived.
Subliminal role play engages more people than role play, but unlike situational learning and guided role play, it is harder to measure Subliminal Role Play's effectiveness in achieving its learning goals. but Subliminal Role Play also blends better with and helps support real situations.
Props are key to making situations more believable. This is because he brain's imagination has less work to do in competing with it's logical part that is otherwise forced to explain away aberrations that don't support the imaginary world view. A classical example is an actor on set vs them acting against a green screen with no props. This is also why networked games fail to be convincing to most players. More convincing experiences are needed.
New Frame
Subliminal Role Play: The act of being made to perform pretend play without knowing it.
Example: Imagine a make-up mirror where the hair director yells out to you from beyond the mirror "Hey, give me a hand! Grab that hairdryer and help me get her (the model) ready! We've got 1 minute left to get her inline for the runway!". We then combined both frames to create a concept.
Design Thinking
Briefing and map of industry network provided by curator
Workshopping to refine problem definition and explore themes and frames.
Early testing of Subliminal Role Play using a photoshoot.
Themes were organised into a customer journey and design-frames became a list of professional roles that were familiar to and admired by the public. These were then validated with the curator.
Interviews with hair director, make up artists and models. Analysis of work environments, events and situations of these professionals.
Personas of extreme users: fashionistas (through the eyes of being a model)
UI and experience design concepts interpreted the customer journey as if it were a model's journey during Fashion Week. The result was a network of games across rooms that represented different environments and stages of Fashionweek and their career beyond.
Assessment of different paths and interactions (customer journeys) using public program coordinator (instead of a psychologist) to investigate how visitors might interpret each experience lead to interactions with different endings and design refinements, making the customer journey into a choose your own adventure of subliminal role plays. Final validation with curator, executive team, models and fashionistas as extreme users, and members of the public interested in fashion.
Subliminal Role Play was taken a step further by blurring the boundaries between which events and spaces were real and staged. The UI's and spaces were redesigned so that they could be repurposed to host a real fashion show and backstage area. (This was tested successfully after launch.)
Project management and schedule of experience-prototypes and shoots.
Experience-prototyping involved using photography and filming in environments and props we used to create situations that became increasingly real and high fidelity. I tested which props and actions lowered the user's inhibitions and triggered the most varied engagement using least resources. Footage were also later used in final the UI's.
Design refinements and validation with Museum management
Technical electronics and multimedia brief based on tests done with cameras an UI's during experience-prototyping.
Industrial Design and production liaison of UI programming and digital vidual design, spaces, electronics and manufacture.
Installation
Repurposing of exhibition's UI's and spaces into a real fashion show and backstage area.
Solution
Interactive experiences and exhibition spaces where visitors learned about the professional network that supports Australian Fashion Week by interacting with the profession directly through UI's as if they were a model preparing for the runway.
Achievements
New frame created: Subliminal Role Play
Exhibition travelled Australia